SEARCHING FOR CUSTOMERS – AN CRUCIAL STEP IN STARTING A BUSINESS

In the business world, searching for customers amidst a fiercely competitive setting as today's is indeed an uphill battle. Nevertheless, retaining customers, turning them into loyal ones and fully exploiting "customer lifecycle" are further challenging. Understanding this fact, DNES along with expert Tran Vu Nguyen have built up the lesson "Searching for customers" to provide the most specific information related to customer acquisition process and effective communication channels in sales.
For startups, the most important competitive advantage is the lowest customer acquisition cost (CAC) and the most effective customer acquisition (CLV). Any business that holds this advantage is considered a growth hacking model. In addition, different from the traditional business model – where owning a sales or business development department in parallel with a marketing department, brand communication and customer care; Startups often have a department with a more special mission: customer acquisition – aka customer acquisition.
Steps to gain customers:
To win customers, start-ups need to build a clear strategy and a full customer journey. From the moment the customer first contact with information about the startup's products and services; to the next "touchpoint", usually on the internet. The highlight of this journey is to make the customer experience "smooth" to keep them using the startup's services.
The journey to win customers in a business startup usually goes through 6 steps:
Step 1: Identify the most potential customer group of the startup;
Step 2: Clearly define the goal when approaching customers
Invite to try the product, or download the application, or need them to introduce more friends…;
Step 3: Choose a channel to attract customers.
Social media is an effective channel, but costs are constantly rising. Direct sales channels, B2B channels (business to business) or Co-promotion programs (shared marketing with the same customer) are also options worth trying.
Step 4: Clarify step by step in reaching customers in each channel.
In this step, understanding the customer journey and customer decision touch points at 3 steps: (1) pre-purchase: Awareness – Consideration – Decision, (2) during purchase: Purchase – Use, (3) after purchase: Share experience – Introduce new customers – Return to use; This will help businesses come up with a scenario to reach customers in an appropriate and effective way.
Step 5: Communicate with customers.
Startups can choose from many different communication channels depending on their needs and creativity. Livestreaming or using chatbots to save personnel costs is a model that can be referenced in the current context.\
Step 6: Measure and find ways to improve strategies to attract and retain customers.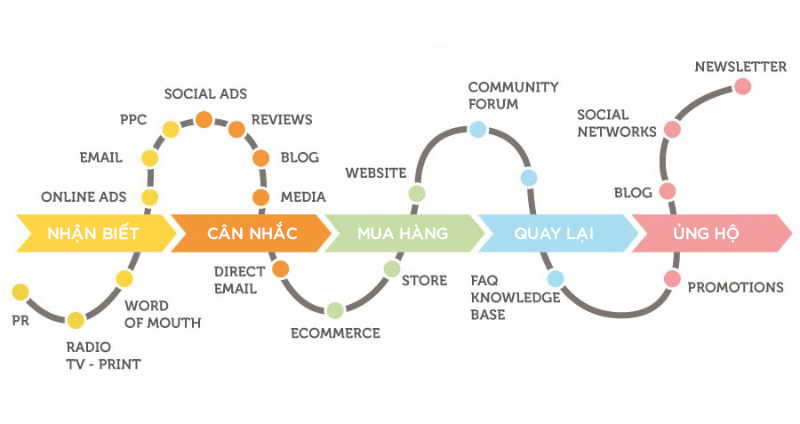 Above is Umbalena's user flow, from the customer interacting with the ad, downloading the app, signing up and having the first activities. At each step, businesses will give measurement and evaluation indicators to choose an effective sales strategy. In particular, businesses need to always pay attention: increase the customer conversion rate, find out at which step the customer ends the buying journey to always have an improvement plan. For example, when a customer clicks on "subscription" but fails to purchase, it's usually because the customer doesn't have a card. Therefore, start-ups need to immediately have customer care activities such as calling or designing a customer route to make the purchase steps easier.
As stated above, the competition of startups lies in the cost of attracting customers and exploiting added value from a customer. Therefore, the customer acquisition strategy needs to be creative and highly effective. To achieve that, the strategy requires a smooth combination of two factors: (1) the uniqueness of products and services and (2) the effectiveness of communication channels to reach customers.
And for you to better understand the channels to reach customers, here are some suggestions from expert Tran Vu Nguyen about effective communication channels, widely used in business startups:
Content Marketing
Create an engaging content that gets people interested and talked about a lot. An example that is not entirely suitable for content marketing but also has great potential is appearing at forums and contests about startups to use the appeal of their content to attract customers.

For example, the medical-grade weight loss solution of the Daklak startup LMS grew tenfold in customer base after just one appearance on the Shark Tank TV show.
Search engine optimization (SEO)
This is one of the activities that helps the company increase the quantity and quality of traffic to the website through search engines without cost. Improving or optimizing the display of products/apps on google, app store is one of the important activities of businesses.
Email or Mobile marketing:
This is one of the activities that helps the company increase the quantity and quality of traffic to the website through search engines without cost. Improving or optimizing the display of products/apps on google, app store is one of the important activities of businesses.
Use social networks effectively:
Depending on the product, customer segment, purchase journey and user habits, the project will provide analysis to select effective and appropriate marketing channels. Facebook, Twitter, LinkedIn, Tumblr, Reddit, Pinterest and now Instagram, are some of the most popular social networks today. All of them can become effective content promotion tools.
Referral:
"Refer a friend as a customer" campaigns so that the referrer and the referrer both benefit are good examples of this marketing channel. With referral marketing, you don't need to pay customers to promote your brand. Instead, you can reward them with promo codes, free products, or earn points. For example, campaigns of Beamin, Momo, VNPay…
Affiliate
This activity has the same mechanism as referral marketing. However, the audience involved in your strategy can be suppliers, distributors and even customers. They will help you promote and sell, instead, the business will pay the participants cash. Their only motivation is to sell or promote your product and get a commission in return.
Advertisement
Sometimes, paying for advertising in a creative way is also very effective. For example, in the past, a school social networking startup that paid for very large outdoor billboards also achieved unexpected results.
No matter which marketing channel you choose, creating engaging content to attract customers is always something to keep in mind. Content creation activities will often be integrated in marketing activities to achieve maximum effectiveness for the customer acquisition campaign.
The process of finding customers, and selling in a business startup is an interesting journey, full of experiences and life lessons. Every start-up business needs to choose its own direction and way of doing things differently. However, the ultimate goal is still to make the product more and more known, accepted and purchased by users; thereby increasing the revenue for the business. DNES and expert Tran Vu Nguyen would like to wish you success with your startup plan and customer attraction strategy.
To learn more about finding customers in business startups, please watch more video lessons below: